Associate Professor
Dr. Heather Dixon-Fowler is an Associate Professor in the Management Department at Appalachian State University. She teaches a variety of entrepreneurship courses and supervises the entrepreneurship summer internships. She developed the first undergraduate Social Entrepreneurship course in the College of Business and has co-developed and led entrepreneurship Study-Abroad Programs in Vietnam, Panama, Spain and Malawi. She served as Director for the Center for Entrepreneurship for two years. She earned a PhD in Business Administration with an emphasis in corporate strategy from the University of Arkansas where she also worked as part of the founding team at the Applied Sustainability Center. She is particularly interested in bridging relationships between representatives from corporations, NGOs and the academic community. Her research on corporate social and environmental responsibility has been published in academic journals and has been recognized by Forbes and Business Week. Heather lives in Boone with her husband, two children, dogs, and horse.
Recent Publications
Anderson, S., Coffey, B., & Dixon-Fowler, H. 2013. The Empty Bowls project: Creating, leading and sustaining a social enterprise, Entrepreneurship Theory and Practice.
Dixon-Fowler, H., Ellstrand, A., & Johnson, J. 2013. Strength in numbers or guilt by association?: Intra-group effects of female chief executive appointments, Strategic Management Journal.
Dixon-Fowler, H., Slater, D., Johnson, J., Ellstrand, A., & Romi, A. 2013. Beyond "Does it pay to be green?": A Meta-analysis of moderators of the CEP-CFP relationship, Journal of Business Ethics.
Slater, D. & Dixon-Fowler, H. 2010. The future in the hands of MBAs: An examination of CEO MBA education and corporate environmental performance, Academy of Management Learning & Education.
Slater, D. & Dixon-Fowler, H. 2009. CEO international assignment experience and corporate social performance, Journal of Business Ethics.
Teaching
Venture Creation, Opportunity and Entrepreneurship, Social Entrepreneurship, Entrepreneurship Practicum, Entrepreneurship Internships, and Entrepreneurship Study-Abroad Courses
Research Interests
Corporate social and environmental responsibility, corporate governance, female executives, and social entrepreneurship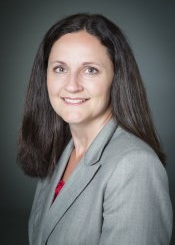 Title:

Acting Chair, Associate Professor
Department:

Department of Management

Email address: Email me

Phone: (828) 262-2688

Fax: (828) 262-8685
Office address
4087 Peacock Hall